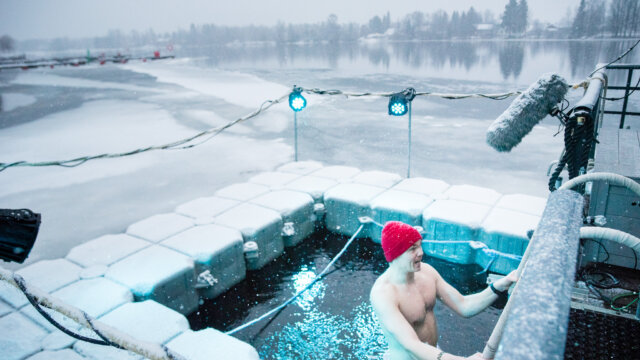 In this blog series we share some inspiring stories of how our customers have faced and overcome challenges in their way. Be ready to get inspired!
Polar Bear Pitching – A Freezing Moment
12th of March 2020 was supposed to be the day of the annual pitching competition in the freezing Finnish North: Polar Bear Pitching. Only a week before the big day, the event was forced to be cancelled – and the hard working organizer team was devastated. "At first, we froze in fear: is this it? But then we remembered our core values and the Finnish sisu, and realized that it's only over if we refuse to act." said Mia Kemppaala, the founder of Polar Bear Pitching.
Only in the short time of seven days, the team managed to create a virtual event from scratch. Polar Bear Pitching was recorded and streamed live from a sauna boat in Oulu, where the participants jumped into the ice hole to present their pitches. And that's not all: the organizers also founded a movement that aims to bring joy and positivity to the current world situation. #Kissfeargoodbye or #freezingmoment hashtags encourage to share one's own experiences of freezing moments and overcoming their fears.
The Polar Bear Pitching team is currently producing a discussion series where a bunch of well-known Finns discuss their own "freezing moments". This is definitely one to watch!
Pictures: Photographer Lasse Lehto
Read more inspiring stories from our customers:
Vilma Autio