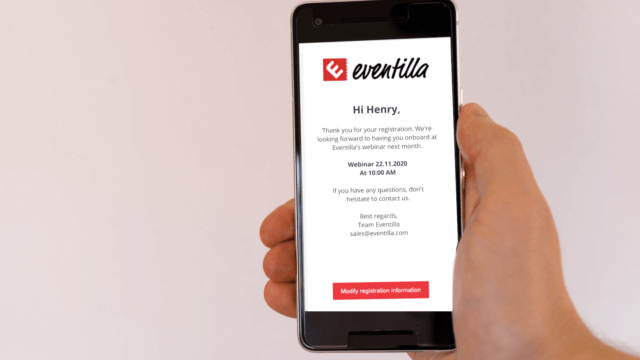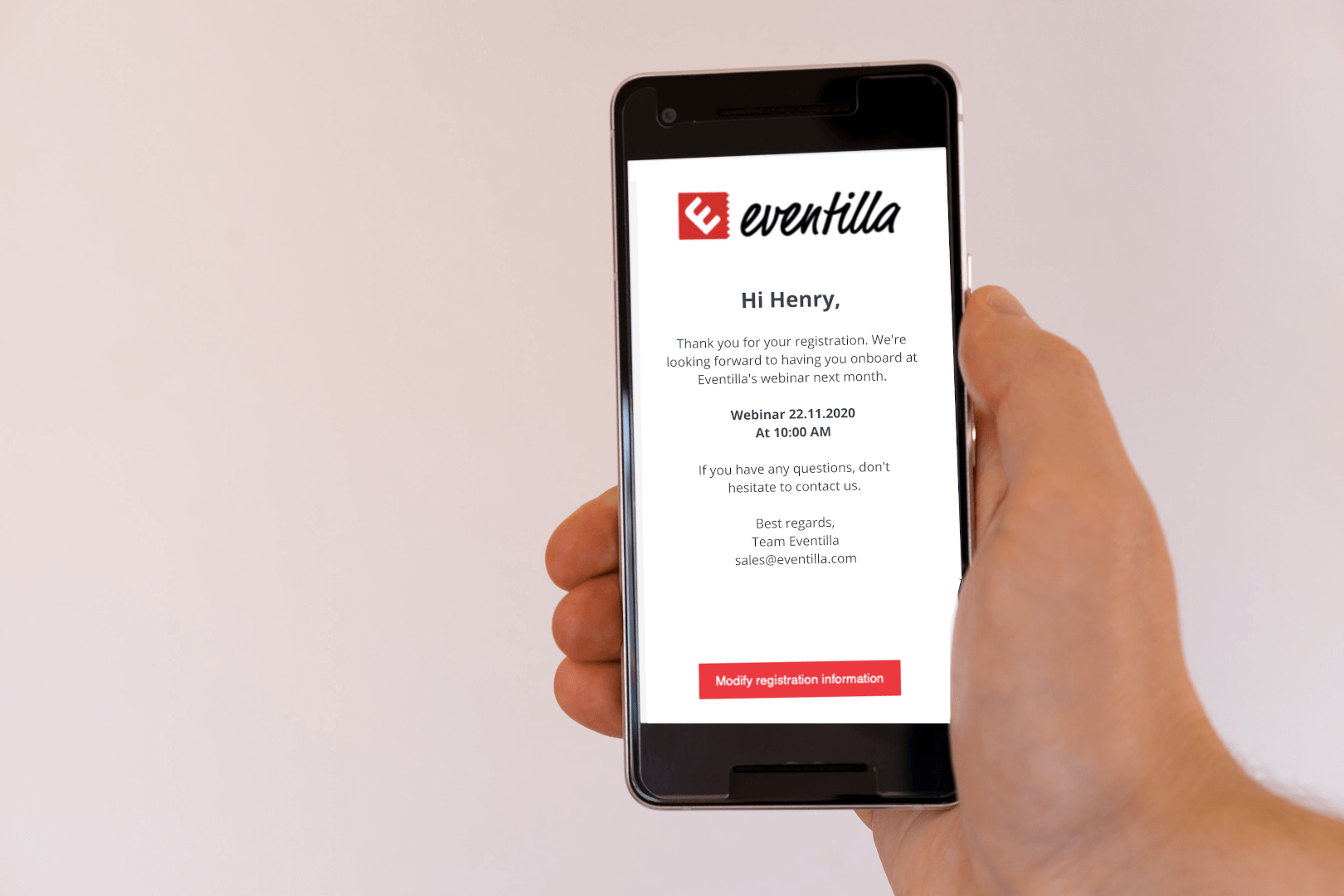 As online events are dominating the industry, event communications become even more important than before. The right kind of communication can positively impact the entire event's success, all the way from marketing to arrival instructions and feedback.
We at Eventilla tend to divide event communications into three parts: communications and marketing before the event, messages during the event, and of course also after it. In addition to these, one should never underestimate a good event crisis communications plan.
As a rule of thumb, we think that the participant should hear from you at least once before, during and after the event. In this article we share our best practices on how to communicate about events, whether it's a question of live or online ones.
In this article you'll find…
Event communication style
The style of your event communication depends greatly on your whole event's style and genre, and of course your own brand behind it all. The most important thing is to keep the event's tone of voice consistent, from first marketing actions to thank you messages afterwards.
Here are some examples of different event communication styles:
"Dear participant, Thank You for registering for Eventilla's course. The course starts on Monday the 15th of December at 10:00 AM. We kindly ask You to ask you to arrive at the venue or open the webinar stream at least 5 minutes earlier. You can find the training materials in the material bank, the password was sent to you a bit earlier today. If you have any questions, don't hesitate to contact us: sales@eventilla.com. We warmly welcome you to join the course."
"Hi Team! Great to have you onboard. We hope you're as excited as we organizers are! We really want to utilize the entire scheduled program time time, and that's why ask you to arrive in the class or open the webinar lines at least 5 minutes earlier. Can't wait? We can't either! Luckily you can access the course's material bank already now, just check out the password email you received a few hours ago. Any questions, or just willing to share your excitement? Contact us: sales@eventilla.com. See you tomorrow, yay!"
Bet you noticed the difference? Don't underestimate the power of communication and wording, not even when it comes to the shortest SMS messages. By keeping the tone of voice consistent, you can positively impact and strengthen the participants' image of your entire brand.
Targeting event communications
In addition to finding the suitable communications style, you should consider how to target the message to an audience of your choice. Is it better that every participant receives the same message, or should the message content be tailored based on the participation type? At least when it comes to hybrid events, one should always send different messages for online and live participants. Some events may also require sending different instructions to Saturday and Sunday participants, or the ones with VIP or press badges. In webinar cases on the other hand, you may want to target the feedback survey for those who were present, and a recording for those who missed the occasion.
A modern event management system (such as us, Eventilla) allows you to target event communications for the right audience, for example based on the chosen registration form fields or participation data.

Communications and marketing before the event
Event marketing
Event marketing before the prime time is crucial for the audience success. Direct your digital marketing traffic to a brand-like landing page, where the participant can register for the event and easily finds all the needed information. You can market the event page for example…
On your own website, by utilizing for example a WordPress event calendar
In your organization's own social media channels
In social media groups
With paid digital advertising (Google, Facebook, LinkedIn, Instagram… you name it)
Via personal invites
With newsletters from your email software (such as LianaMailer, natively integrated with Eventilla)
Remember to check that all the event materials follow your brand guidelines and general looks, so that the audience receives a consistent visual image of the event.
Instructions and reminders
Before arriving to the event venue or opening the webinar connection, your participant needs to know more about the event, its genre and maybe an etiquette. How do I dress? Should I bring something or prepare myself otherwise? Should I download a webinar software or some other app beforehand? Should I have my video connection on? These are only a few of the questions your participant might wonder.
Walk through the participants' path in your head and consider what they need to know the occasion. Send the instructions in a clear form well before the event, and send reminders if needed.
Almost as important as instructing, is of course to prep and inspire the participants to the event atmosphere. It is nice to receive an eager welcoming message a few days or weeks before. This message should take into account the participants and their possible questions, and set up the right mood.
Communications during the event
Instructions and reminders
Messages sent during the event might need to be very topical and quick. That's why we recommend sending such messages, like information about schedule changes or safety instructions, via SMS instead of emails. Text messages are likely to reach the large audience a bit sooner.
You can also use SMS messaging to remind the participants about the next starting performance or locations (very useful with big conferences and fairs), lost-and-found items pickup or other situations that need action.
Sending materials
During the event you can send e.g. the next lecture material to the participants. Schedule this beforehand, and you won't have to worry about it and get to focus on the other important stuff. This way the participants will always receive their materials on time.

Communications after the event
Even though the big day is over, you shouldn't forget the participants. After the event you can show them your appreciation in many ways:
Thank you messages
Let's face it: your event is nothing without its participants. That's why you should always thank them for showing up or listening online. After all, they used their own precious time to see your event and made it possible for you to arrange it 🙂
Feedback surveys
Asking for feedback after the event should be obvious, but still it somehow gets forgotten. By asking for feedback you make the participants feel that their experience really matters. The feedback is very important also with your next events in mind: how else would you be able to make the next ones even better?
Sending materials
Send the event or course material to the participants afterwards, so they can really look into it in their own time. This way you'll also save them the trouble of making notes during the presentations, giving time to focus and enjoy the experience.
Re-marketing
We really recommend you to always ask for a marketing permission at the registration. This way you're able to utilize the participants contact information when marketing your next event. They will likely want to be invited to e.g. an advanced course right after they've finished the basics lectures.
Is your organization still lacking a solution for event management and communications? Let's take a look together and see how Eventilla can make your event and communications actions a bit easier. Contact us for more information.
Vilma Autio