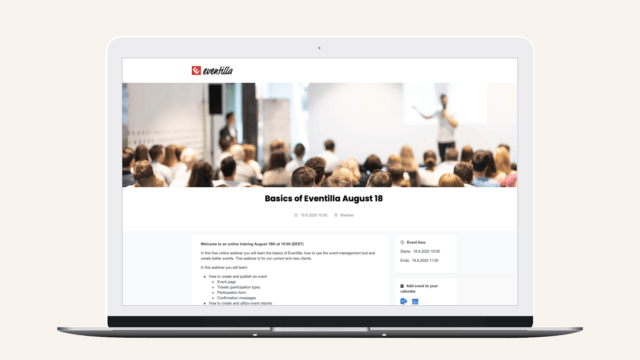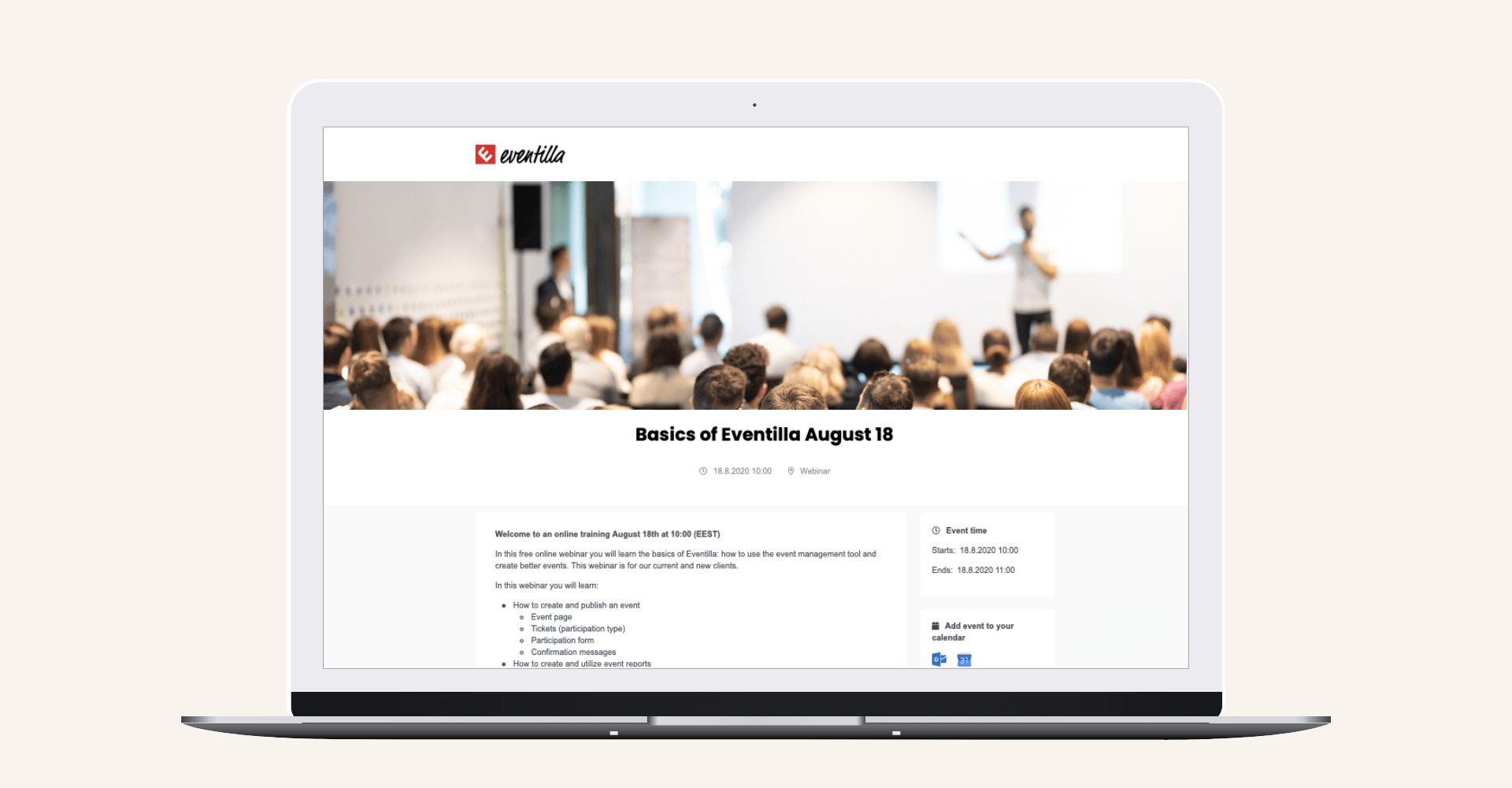 Digital marketing needs a home base: a place where the visitor is directed to, for more information about the topic. This place is called a landing page. Landing page is the first web page your visitor sees on your website.
Because landing pages or event pages can be the first touch to your brand and company in general, you should definitely make them worth the while. Don't underestimate the power of a landing page when it comes to events – they play an important role in the potential participant's decision whether to buy a ticket or not.
A good landing page intuitively guides the visitor towards the desired conversion. When it comes to events, the conversion act is usually the registration or buying a ticket. It's also important to offer all the needed participation info and guidelines, and offer them at the right stage of the buying journey. If the event location or participation information is missing, many potential customers might not purchase the ticket at all.
What kind of qualities does a good event landing page have? And how to create one?
A good event landing page has…
Let's dive into these 5 steps in detail.
Brand-like appearance
Brands play an important role in organizations' success. Even though a brand is much more than consistent layouts and distinctive logos, the visual appearances are an important part of it. You'll obviously want the events to serve as a seamless part of the other marketing actions, so why should their look differ from general brand guidelines?
A good landing page follows your brand guidelines and layout. This way the holistic brand look stays consistent and memorable also for those participants who are just getting to know your company.
Interesting and informative headline
The most important goal of your event is to offer added value to its participants. To get the participants to register and actually show up, you need to present the event content in an interesting way. But don't fall into the trap of clickbait headlines – as you'll want to attract those participants who actually find the topic interesting.
The event headline should include its topic in a short and truthful way. Here are some good examples: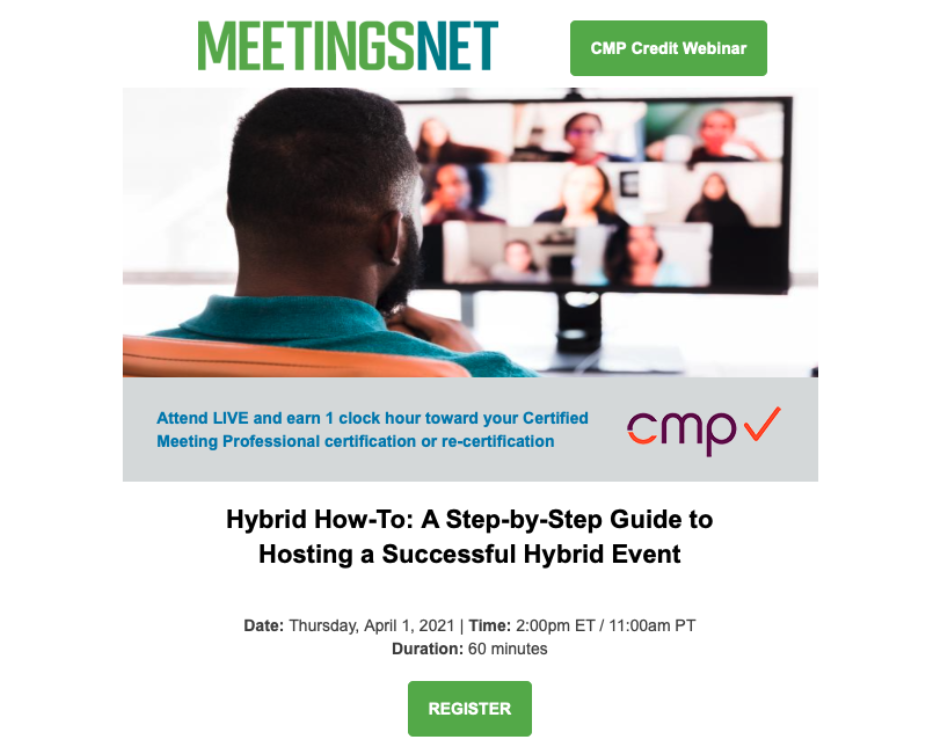 MeetingsNet's online event plays with the theme 'Hybrid How-To' but also presents the event content in more detail. The headline attracts those participants who want to learn how to arrange a hybrid event and is especially tempting by promising instructions for a successful one.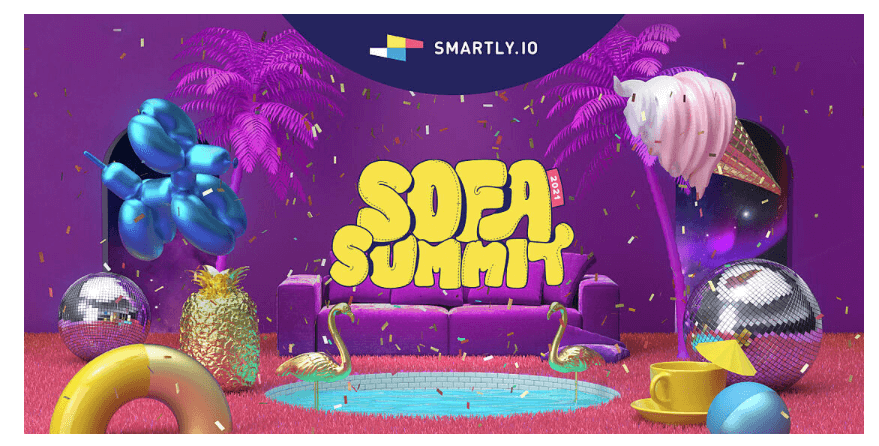 Smartly's Sofa Summit has a fun and energic headline. The event's name is topical and describes its nature well. Who wouldn't want to join a sofa summit like this?
Broad description of event details
Event details, such as date, location and many others, might just be the most important part of the event landing page. If the participants don't get enough information about the event at a glance, they won't be coming back for more.
Especially at this stage, you should really step into your customer's shoes. What should the potential participant know before the event? What questions might they have?
Be sure to provide at least these event details:
Event date and time: 

Note the different date+time formats and time zones, especially with international events.

Event location: 

It's good to present the event location also in the format of a digital map. If the event is a webinar or hybrid, mention the software used in the webinar stream.

Participation instructions: 

Provide arrival instructions and guidelines for joining the webinar.

Program and other content: 

If you'd like to keep the event page short, consider providing the program in a PDF format to open with a link or button.

Calendar invite: 

Especially online events are easy to forget, so be sure to offer a calendar invite to mark the date into the participant's own calendar.
You can also insert some other content that attracts the participant to click on the CTA button. The length of the landing page depends on the event's genre. As a general rule, shorter landing pages produce more leads and are suitable for free offerings, and longer on the other hand produce more qualified leads and are a fit for more expensive products and services (Liana Technologies). That's why you'll want to define the own goals of the event first: is the goal to attract brand awareness with as broad audience as possible, or to reach a smaller audience full of the most eager fans?
Let's go through a few examples of good event pages: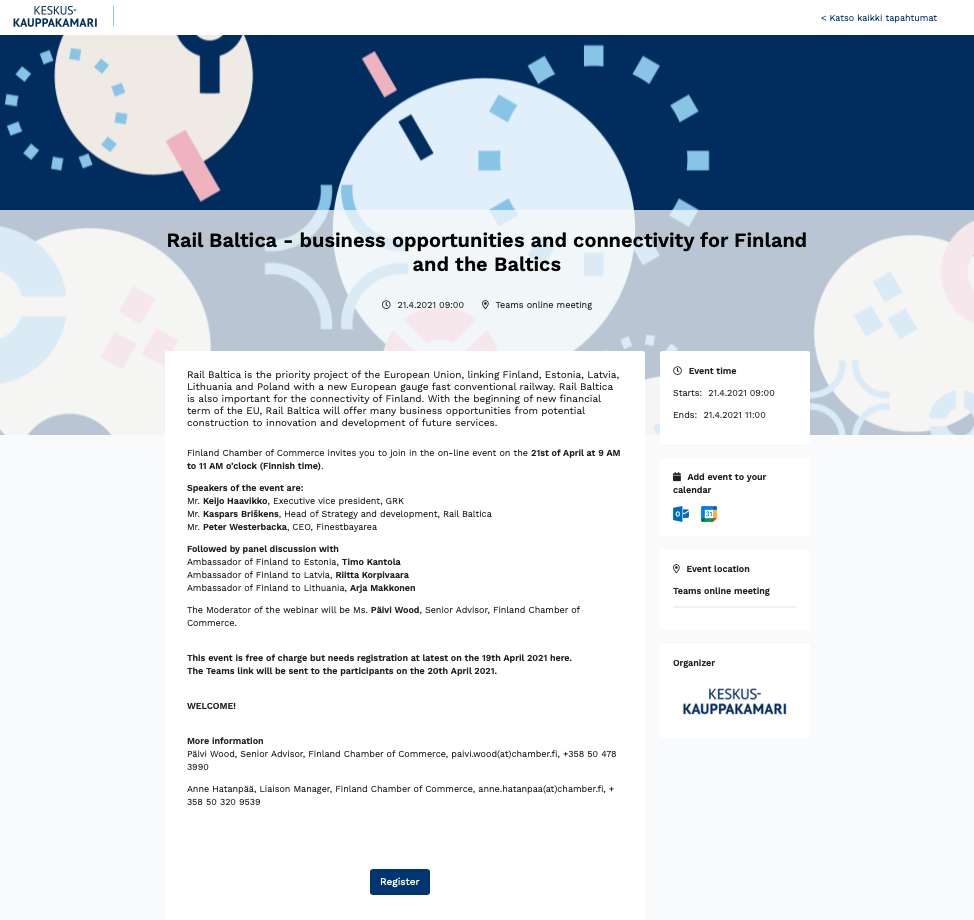 Finland's Chamber of Commerce has a brand-like event page that includes a broad list of event details, as well as calendar link and organizer logos. Well done!
Qatar National Library's event page is also very brand-like. It offers the needed event details in both English and Arabic. The visitor can also find social media buttons in the footer area. There is also an indication of how many tickets are left. Great job!
Clear CTA for registration or tickets
Event page conversion is usually a registration or a decision to buy a ticket. Guide the participant towards the registration decision with with a clear CTA (call to action) button. It usually works to enhance timely content (like now) or some other attracting feature (like free) in the CTA text.
Here are some good CTAs for events:
Register now

Sign up

I want to join

Yes, I'm in!

Register for free
However, a good CTA by itself isn't enough – it's important to ensure that the whole registration process or buying journey goes smoothly and preferably in one place. An event management system carries the whole registration process on your own landing page.
SEO friendly design
Even though you're probably marketing and advertising the event in many digital ways, you should always ensure that it's visible on Google too. So make sure that the event page follows the basic SEO principles.
Note at least these for your event page's SEO:
Event heading is H1 level

Other headings and subheadings are relevant and presented in a logical order

The content is described by using relevant and interesting keywords (but not stuffed with them)

The event page is user friendly and functions well technically

Remember that search engines tend to favor longer pages with more content
More tips for search engine optimization in Liana Technologies' blog
+ 1 Accessibility
Website accessibility is a plus for all users, but exceptionally for those who have seeing, hearing or physical disabilities. Make sure that your event page is accessible, so everyone can participate.
These five tips should help you get started with creating an effective event landing page.
Every Eventilla's customer organization receives a brand-like landing page layout when onboarding. And of course those landing page layouts follow these guidelines presented here. Interested? Contact us for more information.
Vilma Autio