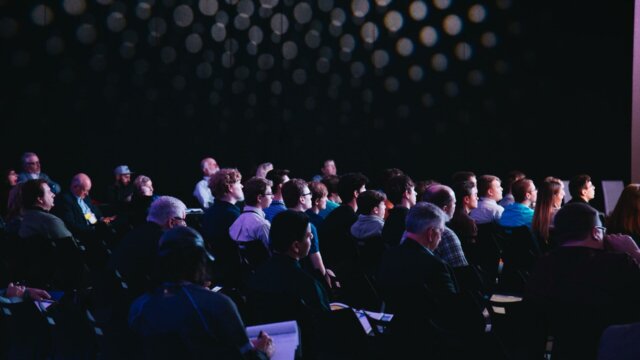 Hybrid events are events that have both live and online participants.
Hybrid events could be compared to tv concerts that are streamed live. In addition to the participants at the actual venue, the concert is followed by thousands of viewers on the other side of the tv screen. However, these events are usually designed with just one of these audiences in mind. With hybrid events on the other hand, it's important to remember that all the participants are equal, no matter if they are sitting in their own livingroom or in the live audience.
But how to organize a hybrid event? What should be taken into account? We gathered a list that will get you started.
Recipe for organizing hybrid events:
You'll need…
A software to manage registrations and communications (well hey, that's us!)
A webinar or streaming platform (like Zoom or GoToWebinar)
An event venue and other live event arrangements
Event page and registration process
Create an event landing page where the participant finds all the needed information about the event. Hybrid event landing pages should clearly state both participation options:
Participating live
Participating online
If the event has participation fees, you should address what each participation type or ticket costs and includes. Remember to mention both the physical venue and the chosen webinar service as your event location.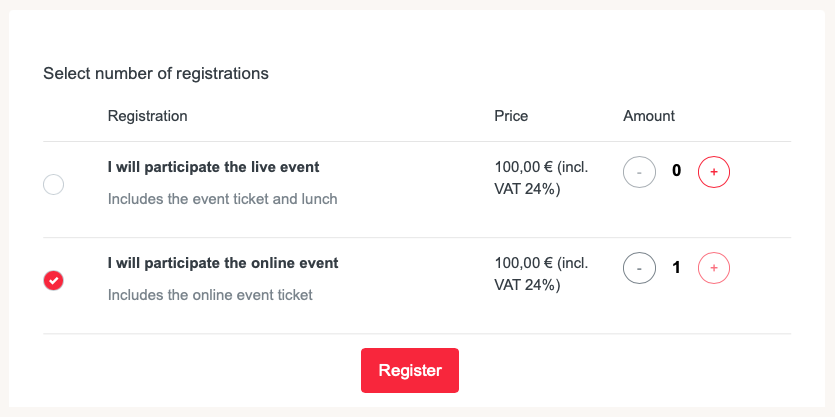 Note this! Would you like to allow the participants to edit their participation data after the registration? With Eventilla's registration process you can allow the registrants to do it themselves, so you don't need to carry the extra work.
Event communications in hybrid events
When it comes to hybrid events, event communications and messaging plays a significant role.
Note the fact that hybrid events are a fairly new concept that might not be familiar to your audience. That's why you should carefully explain what hybrid participation means. Describe in detail what each participation type includes – and what is offered to the participant whether they choose to attend live or online.
Already at this point, it is good to describe how the participation process goes. Live participants usually request for arrival instructions and nearby accommodation, while online participants want to know how to join the webinar stream and what software is used. 
You should always target hybrid event communications accordingly. If the participant has registered for the live event, they don't need to know about online event instructions. With Eventilla you can target different messages for each participation type.
See how the communication needs differ between participation types?
Program – live and online
When planning the hybrid event program, you should take into account both audiences, live and online.
Arranging a successful hybrid event takes a lot more than just a live stream from the traditional live event. Especially when also the online participants pay for their tickets, they should get value for their money. Could you offer online materials to support the event? Maybe an online networking possibility?
Here are some ideas for the hybrid program:
Plan the event host speaks in a way that takes into account the live and online audiences. If your budget allows, it might be a good idea to have one host for each audience.
Support the online experience with extra materials, break rooms, networking lobbies or other special arrangements.
If the event is long, offer the live participants some food and recommendations of good accommodation options nearby.
The most important take from events is often networking. In live events, you can meet people face-to-face or with meetings scheduled beforehand, but you can actually bring networking possibilities for the online participants too. Arrange a LinkedIn comment chain or group, utilize a networking platform like Brella or Tavata, or use your webinar software's break rooms.
Online arrangements
The most simple online version of a hybrid event can be a live stream through a streaming platform, like YouTube. However, we don't recommend taking the easiest route, because also the online participants deserve to get the best possible event experience. That's why we recommend using a webinar platform and integrating it with your event management software.
So as a hybrid event organizer, both the live and online event programs lie on your desk. You might want to check out our tips and other posts about online events.
When choosing the webinar software, you'll want to check at least how many participants the platform allows and other useful functions, such as polls or recording the webinar. We recommend choosing a software that allows the audience to participate, for example through a chat.
Our webinar platform checklist will help you get started, so check at least these features:
How many participants can follow the webinar stream at the same time?
Webinar recording space
Possible polls and voting
Comments (private or general?)
Audience participation
Sharing the screen, one or many at the time?
Sharing the browser window or tab
Webinar integration with an event management software allows many other benefits too, such as smooth and safe data transfers between systems, and eliminating extra arrangements. Check out Eventilla's integrations with e.g. Zoom, GoToWebinar and Microsoft Teams.
Feedback
Have you asked for feedback from your previous events? If yes, keep up the good work! If no, well… you should really get to it. We think it's one of the most important of the event arrangements. Especially with hybrid events, because most of us aren't that familiar with their concept yet. There is a lot to learn to find the best organizing practices, and the best way to do it is with asking for feedback. Remember also to collect the feedback reports and utilize them when organizing your next live, online or hybrid event.
It's useful to target the hybrid event feedback surveys based on the participation type, because the program might look a bit different. This way you'll also know which comments are from live and which from online participants.
Thank you messages are my favorite practice to show the participants your appreciation towards them. This is also your chance to market the next event. And once again, remember to target the right messages to right audience.
We're so looking forward to return back to live events. Maybe the hybrid solutions are in fact our next solution for safer and broader events?
Vilma Autio