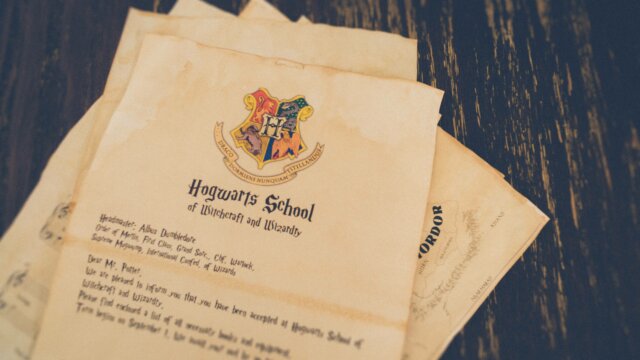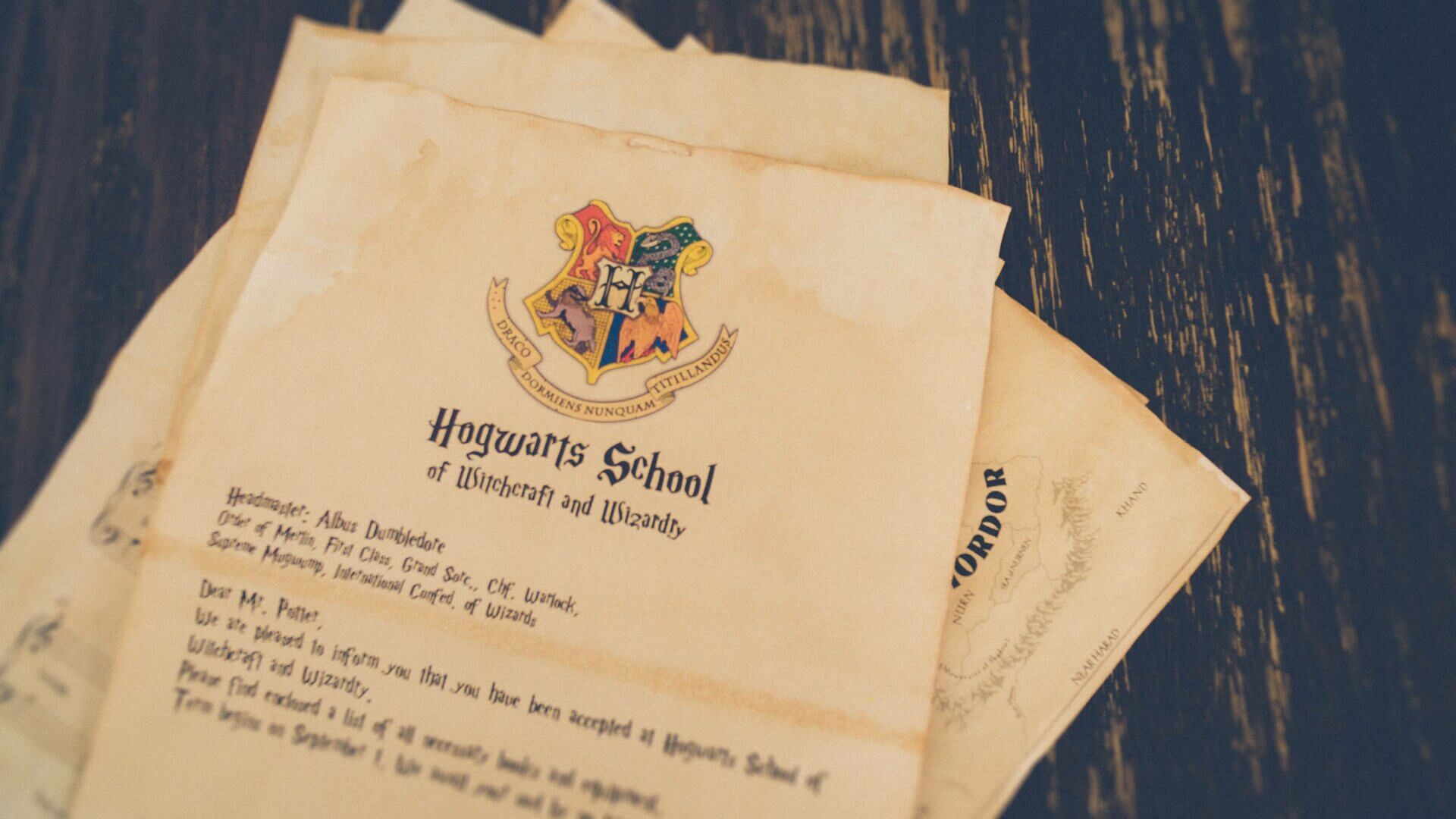 After an eventful and sometimes tough course camp or other event, it's rewarding to receive a certificate that proves you've been present or mastered a certain topic. Sometimes these certificates end up just being nice memories of a great weekend, but they can also be important and needed documents that showcase official qualifications. Whatever the meaning of these certificates is, it's important to provide one.
Here we've listed what a good certificate process includes and how Eventilla can help.
Stay true to your brand
Your event should have a visual theme that looks like your brand and creates a consistent experience for the participant. Continue the brand-like layout with certificates and badges, or at least add your company's logo. Remember to keep the tone of voice consistent with your other communications: if the event style is very relaxed, there is no need to create a very official certificate.
Did you know that Eventilla also creates brand-like certificates? Here is an example of Eventilla's brand communications and a certificate template.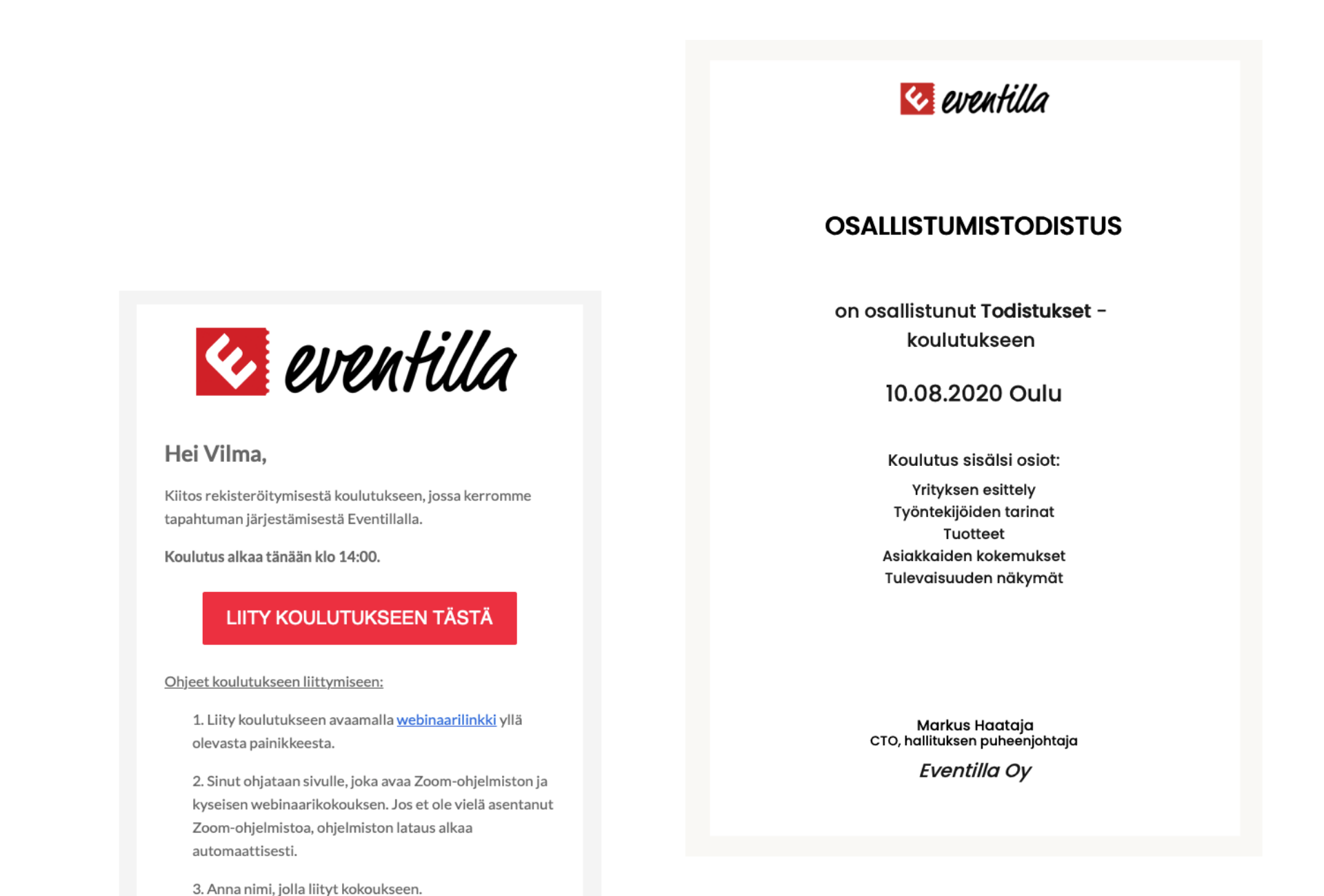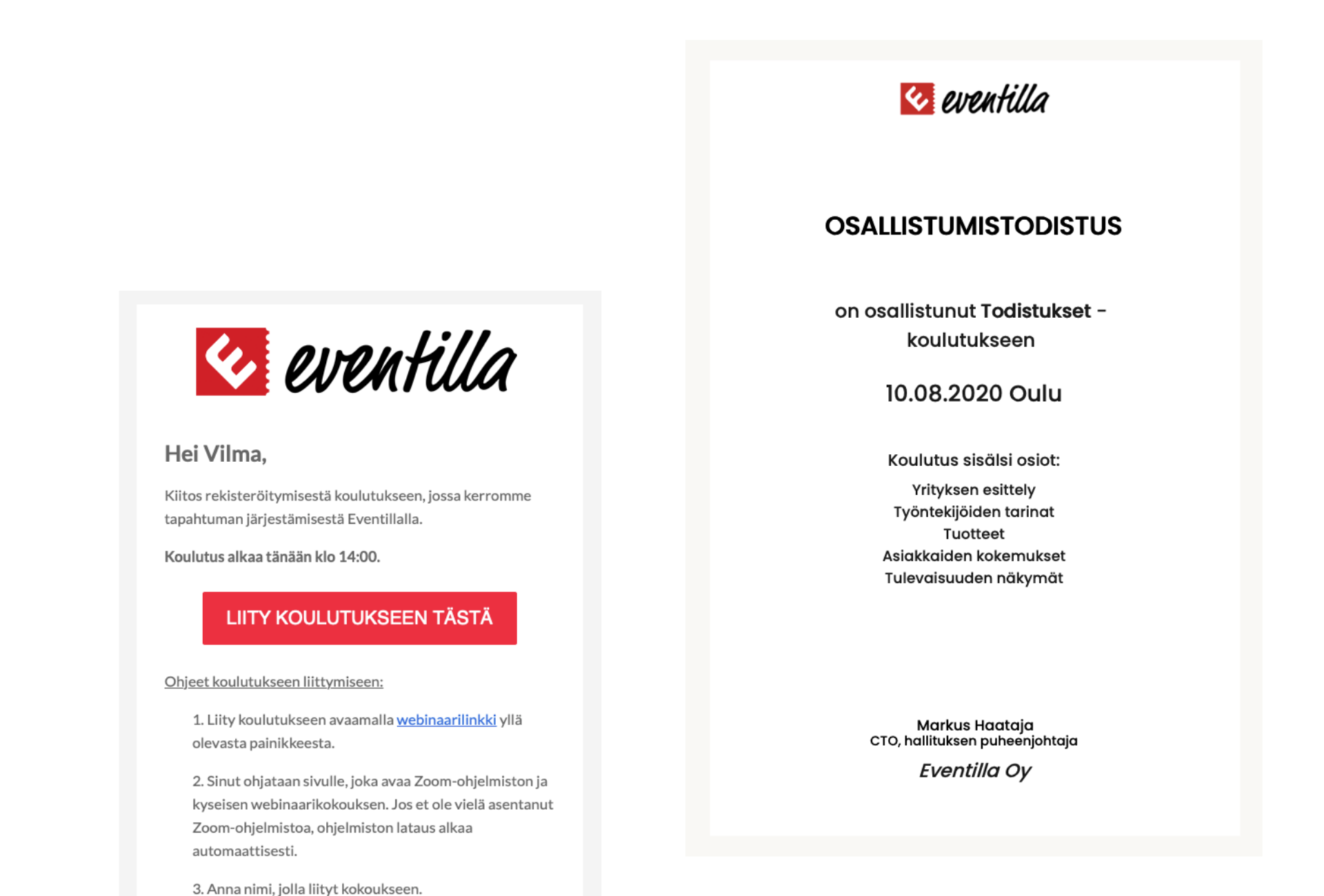 In the certificate you should include at least the participant's name, event name, event date and who is responsible for the certification. 
Automate the process
An event certificate can be delivered to the participant in an electronic form as PDF, or more traditionally in a paper form at the event venue or by mail. The most important thing is to deliver it on time – if the certificate arrives months later, it might not have the same value. That's why we recommend scheduling automated electronic certificates, especially with online events. In Eventilla you can schedule the communications to be sent a certain time after the event has ended. The sooner, the better!
Tracking the performances
Depending on the style of the certificate, it might be very important to track when the performance or attendance has been accepted. This might be based on for example check-in and check-out times. In webinars, Eventilla shows you when the participant has opened the webinar meeting and when he/she has left it. When it comes to live events, you can register the participants in with their personal QR codes, scanned with the Eventilla app. 
These registrations are shown in Eventilla's reports. Reports and the chosen data can be delivered to a certain recipient, and protected with a password if needed. Remember to utilize also other Eventilla's features with the certificate reports.
Certificates with Eventilla
Eventilla can create personalized and brand-like certificate templates. The template is customized to your wishes and it follows the event's visual look. If you're already our client and want to design a certificate for your company, please contact your customer representative.
Psst! Did you know that Eventilla can also create your brand-like name badges?
Vilma Autio